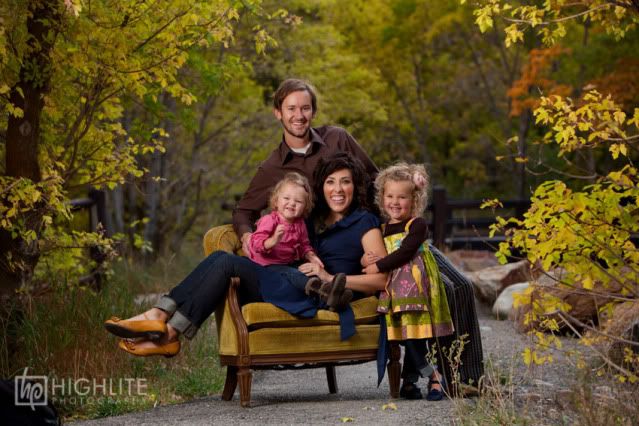 The other day we did pics of this adorable family. When they arrived, my heart was jumping up and down--who couldn't fall instantly in love with such a cute family? This cute couple own a bakery in Provo and just recently are getting ready to open another one in Lehi. As we talked to them, it made me realize of how fun and challenging it can be to work together as a couple and still maintain a level of chaos that won't scar our children's future.

Mind if I reminisce for a minute, but it was about ten years ago that Marc and I decided to take our photography business seriously. But the word "serious" back then included driving a huge scooby doo van look alike to our fall setting. Each session included a three 8x10s for a few bucks. Giving them instant gratification, we opened the back of the van to display a huge 13" television where they were able to pick out their prints. Marc attached the camera to the television with a few cords and our "instant salesroom" was set. Each person carefully selected their 8x10s and off they went. We were thrilled with our day's work and drove home into the sunset in our scooby doo look alike van!

Those were the days! Now, we have a beautiful studio, a great presentation room and much more experience under our belt. I wouldn't ask to have it any other way. We have learned and struggled together as a couple as we have learned how to run a business. My hats go off to any husband and wife business team who work together. You rock!

lots of luv!